2018 RGAC Fall Schedule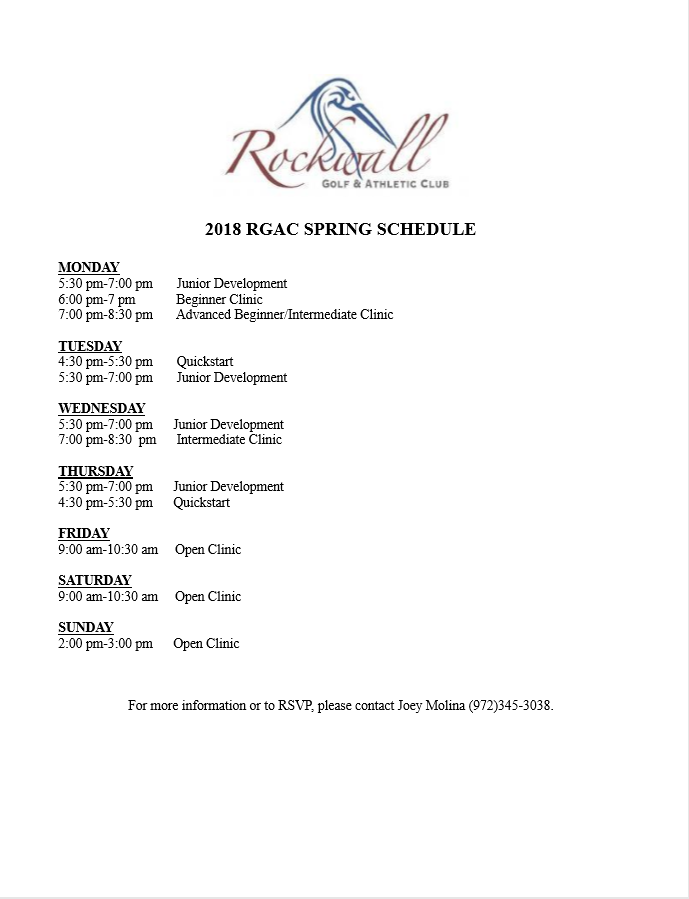 BEGINNER CLINIC - These are designed for new students who have never hit before or are at the beginning stages of tennis. It is here that students will learn the basic ground strokes, volleys, overheads, serves and eventually leading into placement of the ball as well as positioning on the court. Intermediate players often attend this clinic for the betterment of our beginners who are just starting out.
INTERMEDIATE CLINIC - Students are very familiar with tennis in this clinic. The student has had plenty of experience with tennis and can rally, place the ball, position themselves effectively and are not afraid to come in to net.
JUNIOR DEVELOPMENT - This program is designed for students 11 and older. Students should be able to hold at least a 10 shot rally. JD students can effectively ground stroke, volley, hit overheads and serve.
QUICKSTART - This program is designed for students 5 to 10 years of age. Students work with red, orange, and green balls which are lighter in weight and allow easier contact with the ball. We start with easy drills and finish with fun games!